Description
Pearl TV in German takes a video to display this 1000W power station (from 9′):
Integrated LiFePO4/Ternary lithium high-performance battery with 300 Ah / 1,100 Wh
Pure sine wave: supplies standard household devices with power
Two 230-volt sockets with 1,000 watts of continuous load capacity
Fast charging function with up to 60 watts for USB-C mobile devices
Quick Charge 3.0 with up to 18 watt
Protection against short circuits, overvoltage, low voltage and overcharging

1000W Portable Power Station description:
Your extra portion of energy: concentrated and mobile! This high-performance battery with 1,100 Wh provides you with reliable power not only when camping or camping. The ultra-powerful power bank is also a useful power reserve for garden parties and in areas without the main supply!

Energy station with 9 connections: Simply connect your 12-volt devices to the cigarette lighter socket. Or via an adapter to the two-barrel connectors. You can operate up to two additional electrical devices at the two 230-volt sockets. And charge up to four USB mobile devices at the same time. With Quick Charge 3.0 even up to 4 times faster than with a conventional charger.

Flexible charging options: You can charge the powerful battery at home using the 230 V power supply. Or on the go on the 12 V cigarette lighter of your car. And when camping or camping, you can simply feed the solar generator with 100% ecological and renewable solar energy. All you need is a solar panel.

Particularly durable and safe in operation: With more than 2,000 charging cycles, the portable power storage system automatically protects against short circuits, overvoltage, low voltage, and overcharging.

For the mobile operation of 12 and 230 volt and USB devices

Ideal, for example, for camping and tents as well as in the garden

Integrated display: shows battery status, operating mode and warning symbols
2x DC output for barrel connector with 5.5 x 2.1 mm: 12 volts (+/- 1 volt) to 8 A / 96 watt, e.g. cool box and cool bags
1x DC output via cigarette lighter socket: 12 volts (+/- 1 volt) to 8 A / 96 watts

Total charging power at all 12-volt connections simultaneously: max. 8 A / 96 watt, ideal, for example, for cool boxes and cool bags

2x 230 volt sockets with a total of 1,000-watt permanent load capacity for e.g. electrical garden tools, laptops, LED lamps and razors
Fast charging function for mobile devices with Qualcomm chipset: LG G4 / G5 / G6, HTC U Ultra, LG V20, ZTE Axon 7, HTC One A9, Samsung Galaxy S7 / S7 Edge
Quick Charge 3.0: charges mobile devices up to 4 times faster than a normal power supply, backwards compatible with Quick Charge 2.0
2x standard USB ports type A: 5 volts / max. 2.1 A / 10.5 watts
1x USB ports type A with automatic charging current adjustment: 5 volts / max. 3 A / 15 watts, 9 V / max. 2 A / 18 watts, 12 volts / max. 1 A / 12 watts

USB Type C for charging modern mobile devices such as MacBook Pro, Samsung Galaxy S9, Huawei P20 / 30 and many more

1x USB Type C with Power Delivery: 5/9/12/15 or 20 volts with up to 3 A / 60 watts
Pure sine wave: supplies household appliances with electricity

Operating temperature: -10 to +60 ° C

More than 2,000 charging cycles for the integrated battery
Protection against short circuit, overvoltage, low voltage and overcharging
Practical handles

Color: black / silver

Integrated LiFePO4 high-performance battery with 300 Ah (1,100 Wh), charges via 12 or 230 volts as well as via solar panel (please order solar panel with 18 – 30 volts)

Dimensions: 32 x 23 x 26 cm, weight: 11.5 kg

Solar converter with power bank HSG-1100 including 230 V power supply (2-part), charging cable for cigarette lighter, solar power cable (5 m) with Anderson plug and German instructions
Model No.
MG-1000M
Lithium Battery
300Ah, 3.7V/1110Wh (Ternary lithium battery. LiFePO4 is selectable)
Output Power
Rated 1000W; Peak 2000W
AC Output Waveform
Pure Sine Wave
AC Output
AC 110V/220V, 50/60Hz
USB Output
2*USB 5V/2.41A + 1*QC3.0 18W MAX.
DC Output
2*DC 13.2V/10A 132w
TYPE-C
PD: 20V/3A 60W (Bidirectional for input/ output)
LCD Display
Battery Capacity, Status
LED Light 
4W
Charging Input
AC: 110V-220V, 50/60Hz (95W);
Solar: DC 18V-24V (≤120w), Anderson interface;
TYPE-C:  20V/3A 60W MAX
Vehicle: 13.2V/10A MAX
Protections
Over Temperature, Over Discharge, Overcurrent, Input Short-Circuit, Overload, Over Charge
Accessory
1 x AC Charging Cable
Weight
N.W 11.5kg; G.W 14kg
Size 
32*23*26cm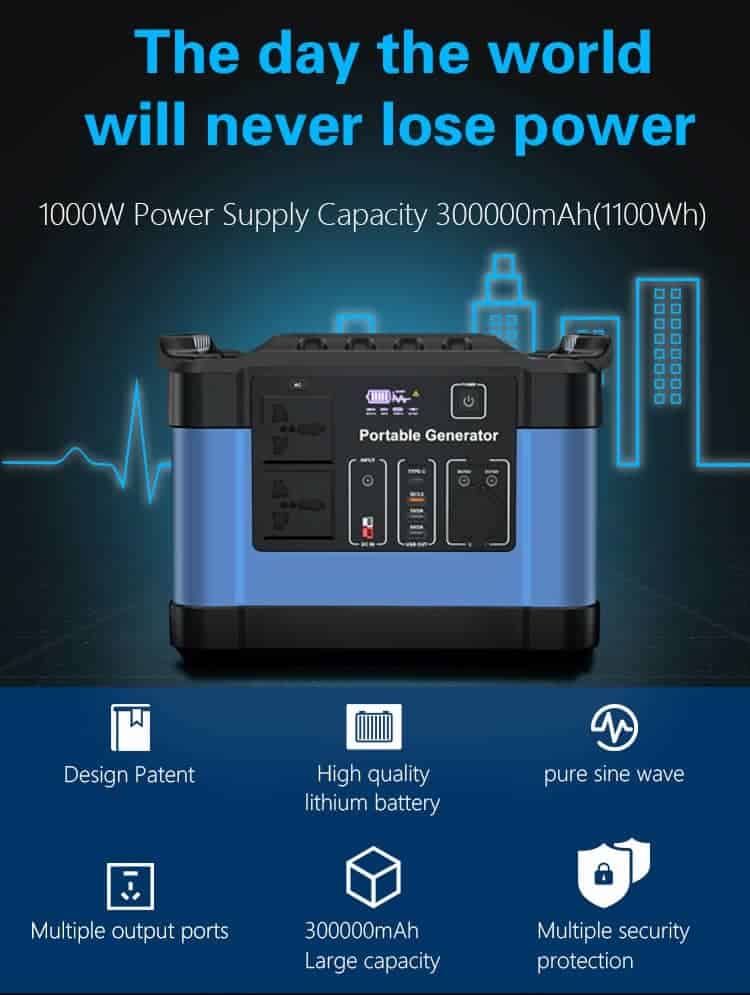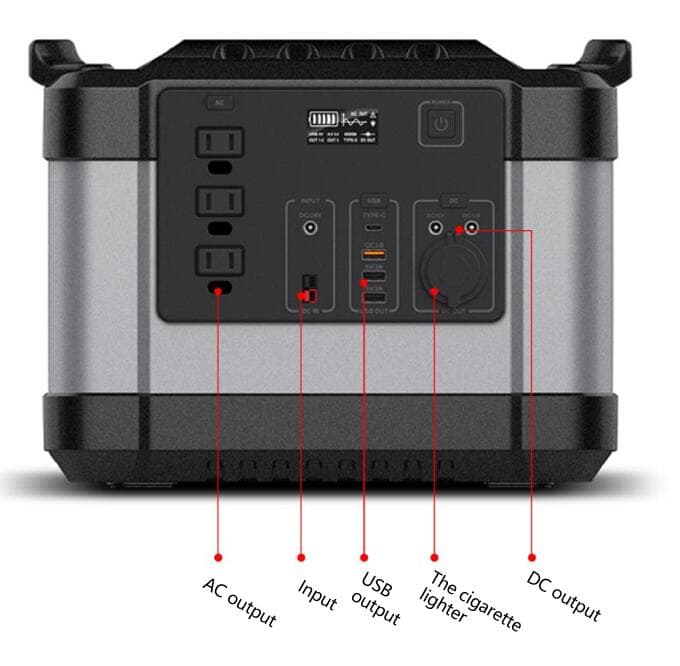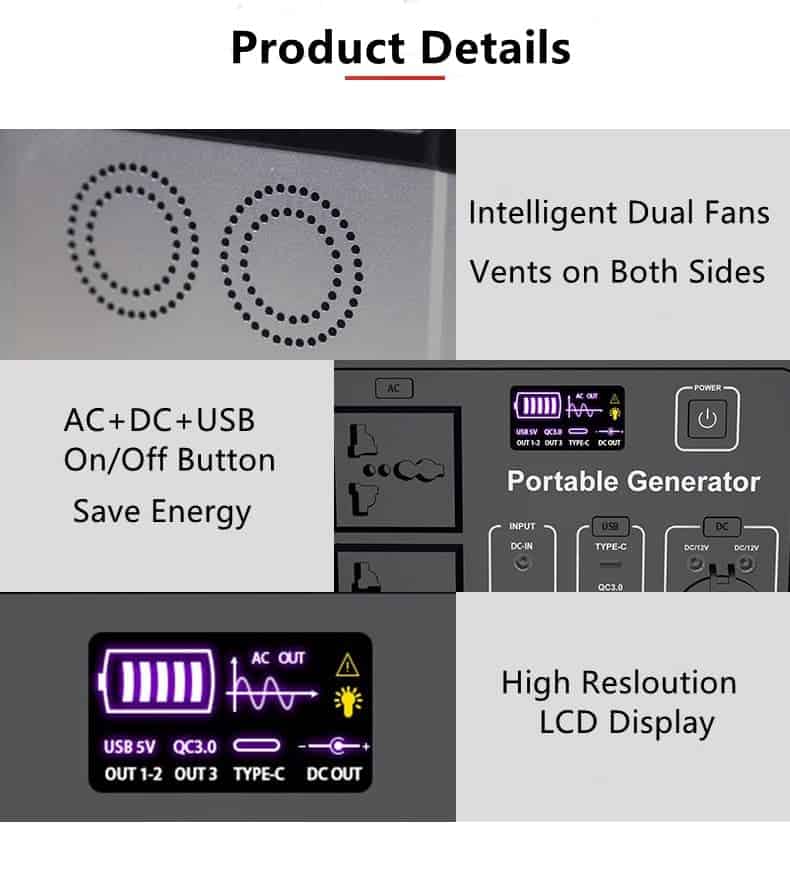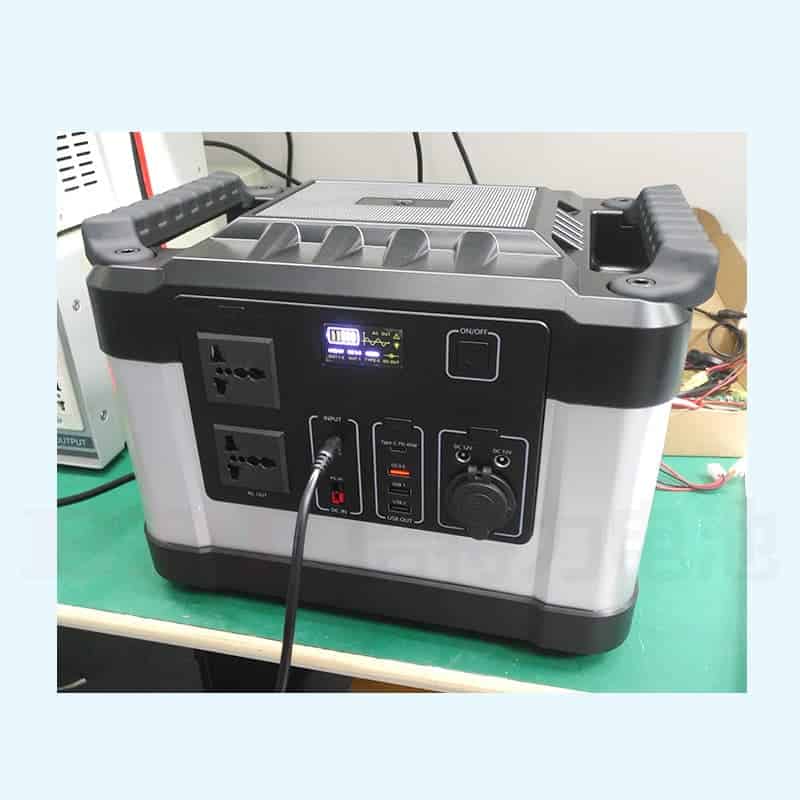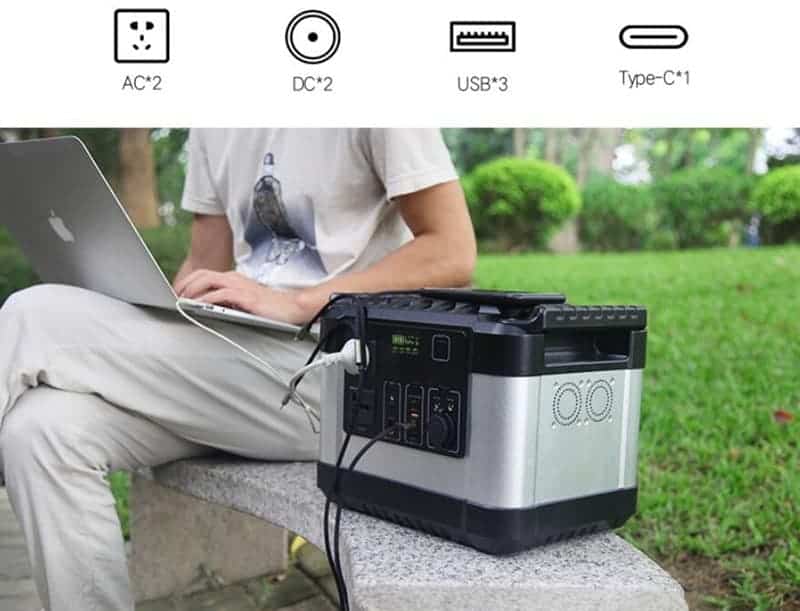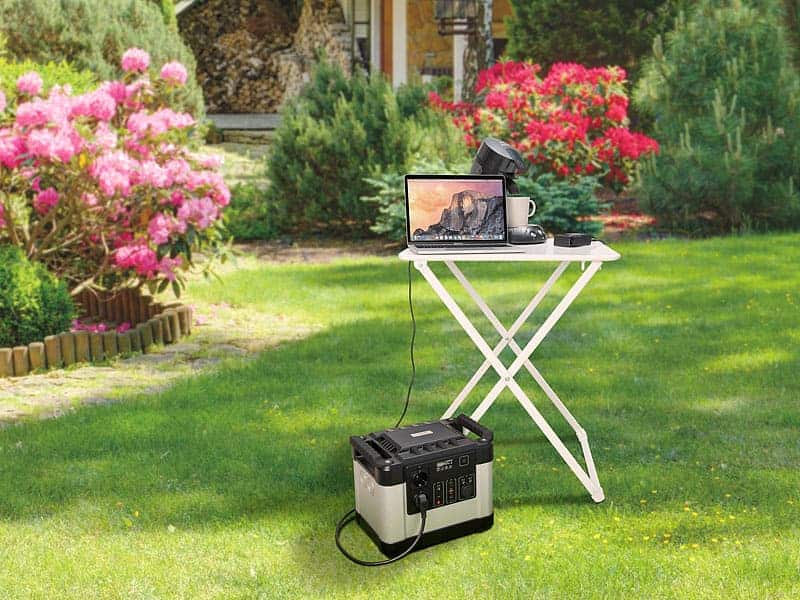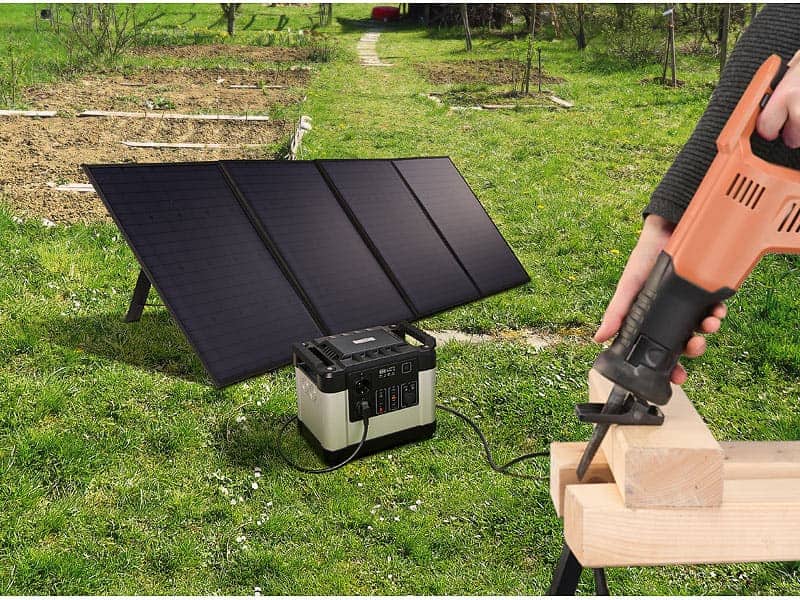 We can also make this 1000W Portable power station with one handle roof-cover: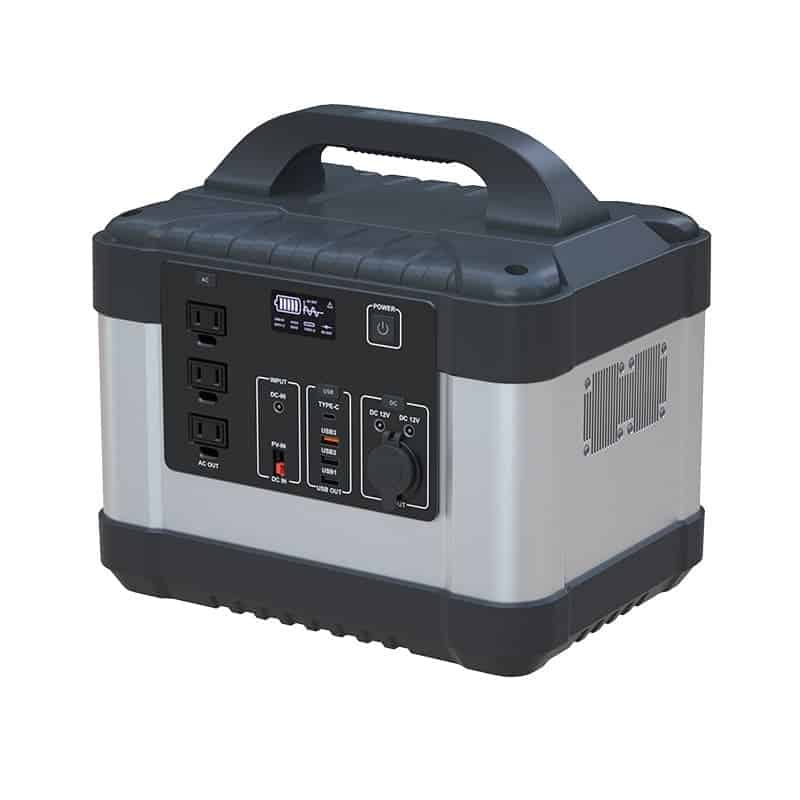 Meind Portable Power Station Production