Description
1000W Pure Sine Wave Power Inverter with LCD Display
Meind portable DC 12V/24/48V to AC 110V/220V pure sine wave power inverter is perfect for running mains powered equipment up to 1000 watts continuous power, 2000 watts peak power from the car, truck or any other batteries. Designed for safe and easy connection our wide range of inverters are perfect for those requiring power when "off-grid" or for in-vehicle use to power tools, computers, TV, fridge, power drills, etc. Compact DC-AC Meind Power Inverter powers your AC products from the battery. The wire/wireless remote controller is able to be equipped with this power inverter.
Features
High-resolution LCD display with multi-information
The soft start function helps drive more difficult loads such as energy-saving bulbs
The intelligent fan that detects temperature and load and turns on only when necessary
On/off button to save energy
Excellent output regulation – +- 5% even with low battery and full load
High/Low battery voltage warning/shut-off
Overheat/overload/output short circuit protection and audible warning
Reverse polarity connection protection by fuse
This power inverter is super-efficient, safe and easy to use with lots of built-in protection to provide peace of mind.
We are sure that this pure sine wave power inverter could be your useful helper and problem solver, making your life more comfortable and enjoyable. You would love it!
We encourage our new customers to send an enquiry feel free. We will reply to you within 12 hours.
 

Model No.

 

TP-1000 (with LCD Display)

OUTPUT

AC Voltage

 

110V or 220V AC ±8%

Continuous Output Power

 

1000 W

Peak Output Power

 

2000 W

Waveform

 

Pure Sine Wave (THD<3%)

Frequency

 

50 or 60 ± 0.5 Hz

LCD Display

 

Battery Capacity, Battery Voltage, AC Voltage, Load Power, Waveform

INPUT

DC Voltage

 

12V

24V

48V

No Load Current

 

≦0.55A

≦0.28A

≦0.14A

Voltage Range

 

10-15V

20-30V

0-60V

Efficiency

 

90%

91%

92%

Fuse

 

 40A x 4

20A x 4

10A x 4

Low Voltage Alarm (DC)

 

11V±4%

22V±4%

44V±4%

Current

 

100A

50A

25A

PROTECTION

Over Load

 

1200 W (Shut off output Voltage, re-power on to recover)

High Voltage Shutdown (DC)

 

15.5V±4%

31V±4%

62V±4%

Low Voltage Shutdown (DC)

 

10V±4%

20V±4%

40V±4%

Over Temperature

 

It will shut off when the temperature reaches 70℃±3℃, re-work when drops to 60℃±5℃

Output Short Circuit

 

Shut off output voltage, re-power automatically when it is not short circuit

Battery Polarity Reverse

 

By fuse open

ENVIRONMENT

Working Temperature

 

0℃~+40℃

Working Humidity

 

20%-90% RH

PACKING

Material

 

Gift Box

Dimensions

 

280*180*69MM

N.W / G.W

 

2.6 KG / 3.0 KG

Carton Packing

 

4 PCS / Carton

Carton Weight / Dimensions

 

12.4 KG / 46*40*24.5CM

OTHERS

Cooling

 

Thermostatically controlled cooling fan

Application

 

Home and Office appliances, Power tools and Portable equipment, Vehicle,




Yacht and Solar power systems …etc.

1000W Pure Sine Wave Power Inverter with LCD Display pictures: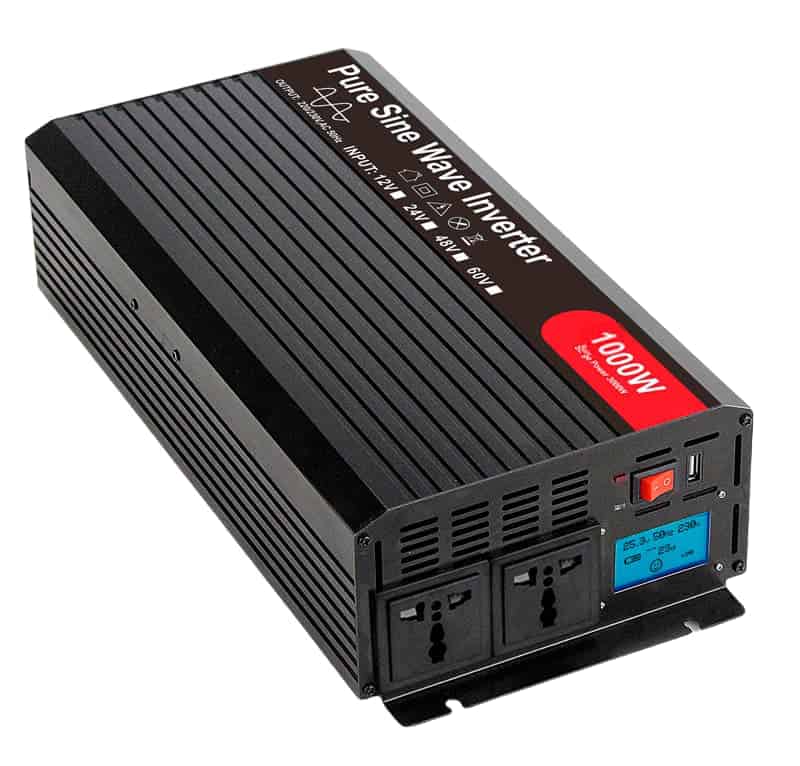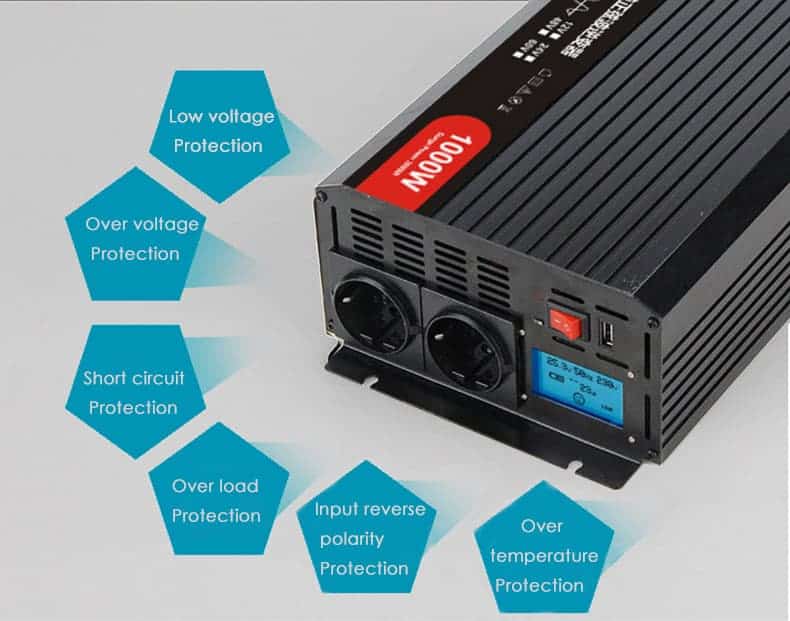 What does the LCD display of this pure sine wave power inverter? It can show load power, DC input voltage, AC output voltage, battery capacity and waveform.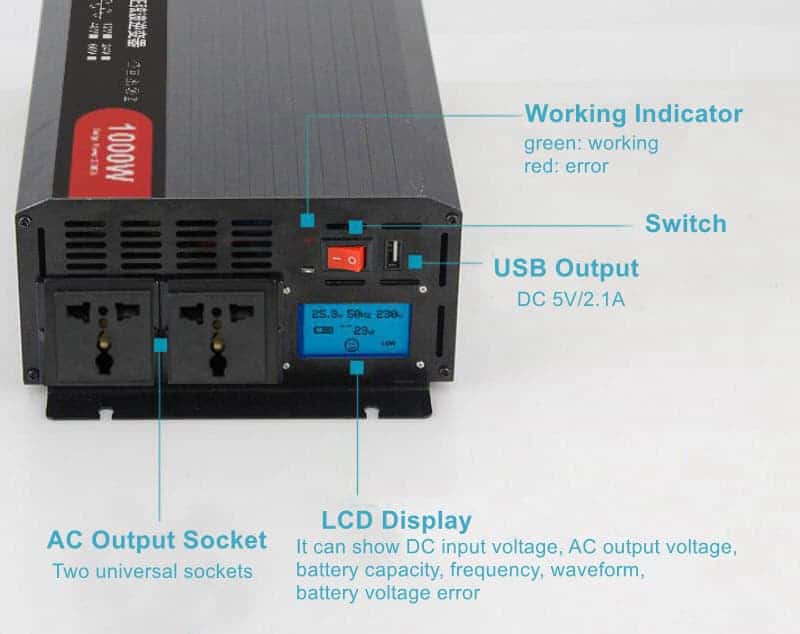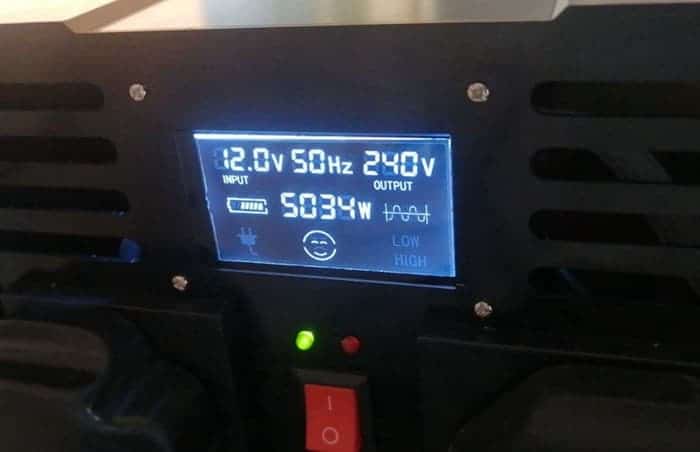 This pure sine wave power inverter is equipped with 100% pure copper terminals, designed for large DC current from the battery. It is also covered by ABS material, for protection from high temperature.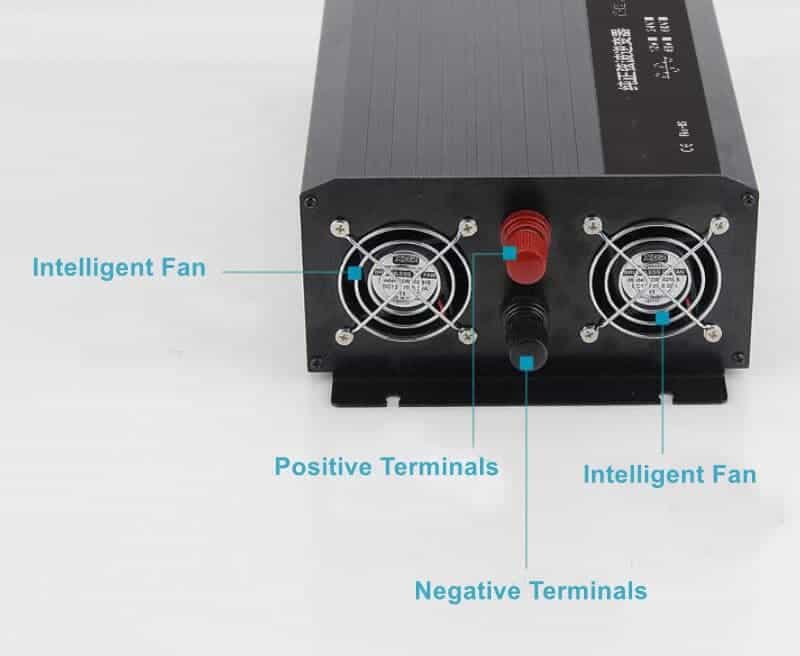 Wire/wireless remote controller is available for this inverter: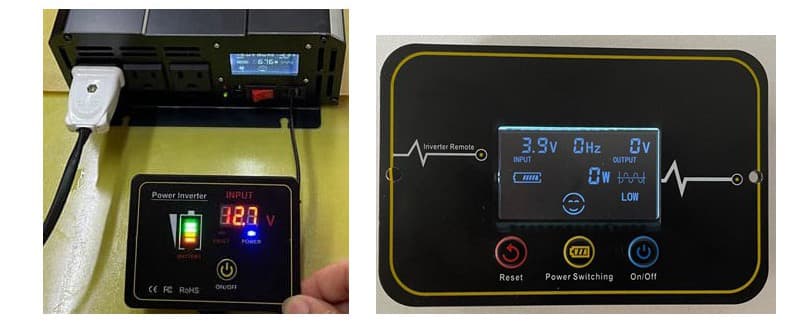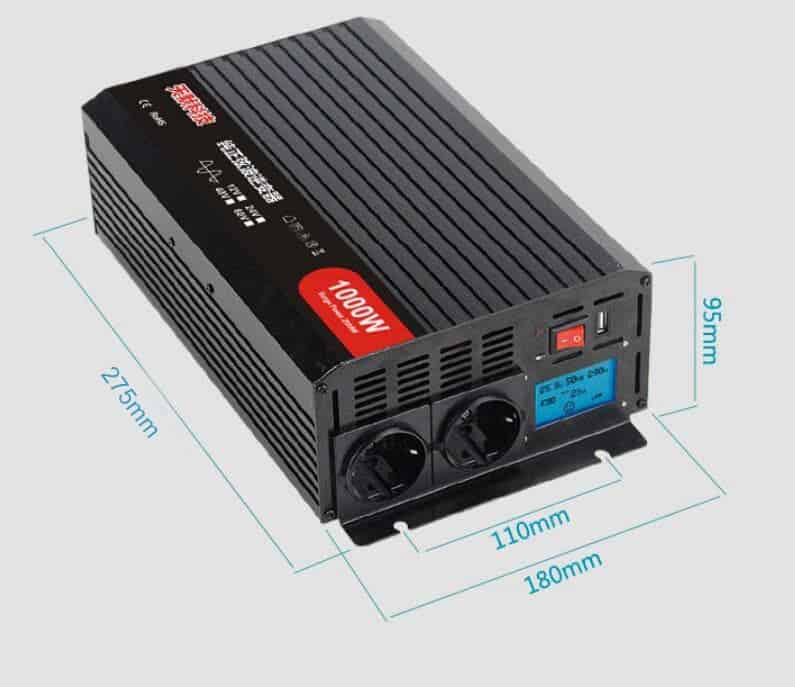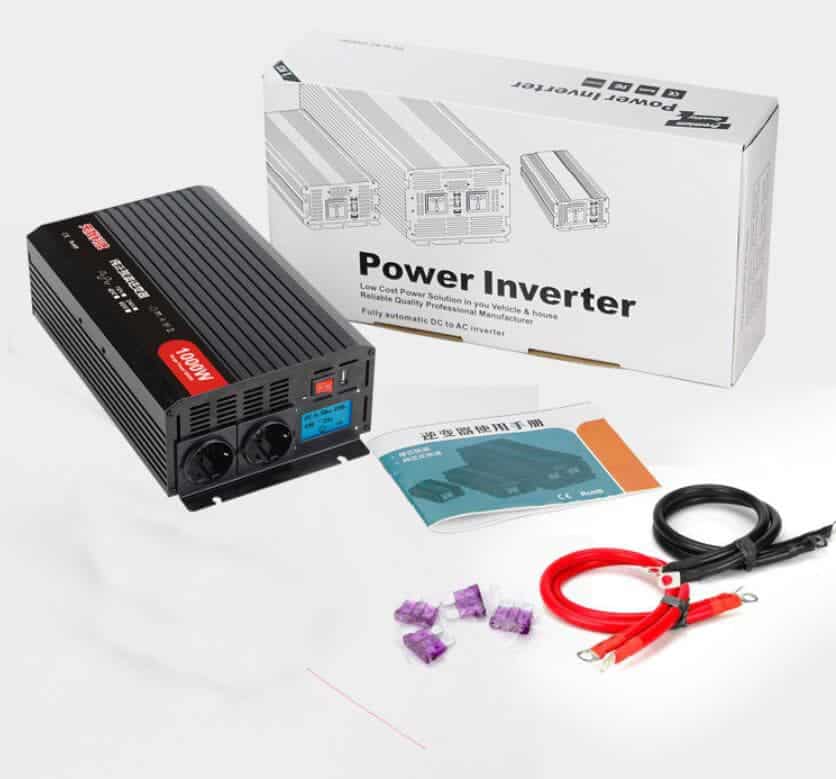 Welcome to check our other inverters: Modified Sine Wave Inverter, Pure Sine Wave Inverter